123a Mitchell St, Glebe
(cnr Derwent St – enter from Derwent St)
The NSWIPP house is a very pleasant training and meeting venue, with a leafy courtyard garden in a quiet part of Glebe close to Glebe Point Road. The two-storied venue offers a Seminar Room, a Reading Room (small meeting room) and a Garden Room with well equipped kitchen, couches, and a table and chairs.
---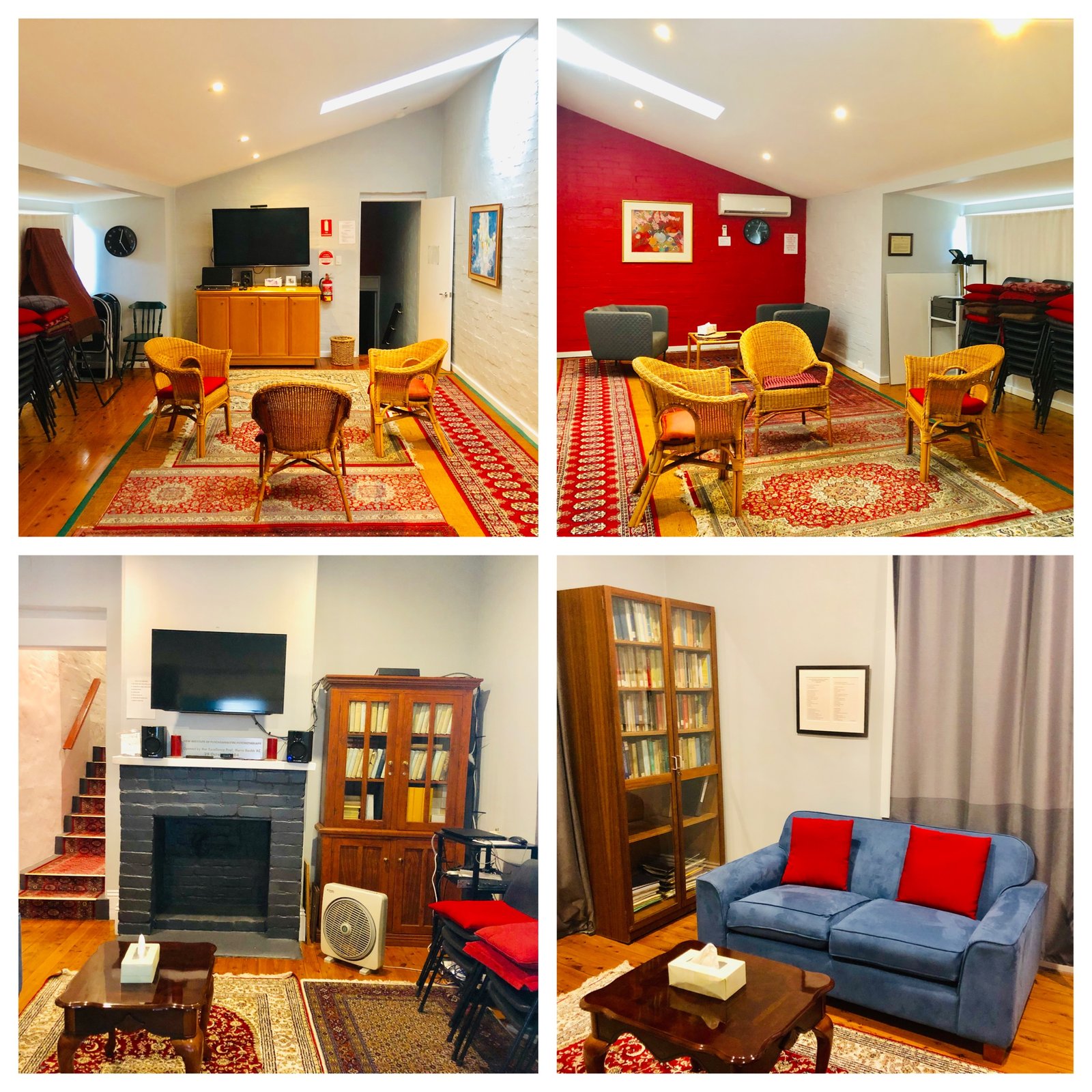 Seminar Room
On the second floor, our seminar room has seating for 25-30 people in a lecture style format or is suitable for small group seminars of up to 20 people seated in the round. There is a whiteboard, an overhead projector and a TV and video/DVD player available for use. The room has air-conditioning for heating and cooling. The bathroom is next door to the Seminar Room.
Reading Room
Upstairs mid-level is a small meeting room with couches, table and chairs. There is a computer and large screen. This room can be used for meetings for 6–8 people or as a break room from the Seminar Rm.
---

Consulting Rooms
The premises has two consulting rooms. Currently, there is availability on Mondays & Thursdays, but if you are interested in other days, please let us know so we can contact you if/when your preferred day(s) become available.
---


Garden & Garden Room
There is an outdoor garden courtyard area with a table and bench seating, a dining room with large table for up to 8 people, a kitchen with fridge, electric stove, microwave and dishwasher and sitting room with couches for up to 8 people.
---
Disabled access
Wheelchair access is limited as there are stairs throughout the venue.
Parking
There is 4hr metered parking outside the venue and non-metered parking a couple of streets away.
---
Hire Fees
For Premises Booking Fees click here or see below
NOTE: GST is included in these rates
Weekdays

Seminar/ Group Room:

Per Hour (up to 5.00pm)

 $44.00

 
Full Day
$308.00
 
Evening (from 5pm onwards)
$176.00

Reading Room:

Per Hour (up to 5pm)

Full Day

$22.00

$132.00

Consulting room:
Per hour for min. 4 hrs
$27.50
 
Casual rate per hour
$27.50
 
Full day
$154.00
 
 
 
Consulting room:
Per hour for min. 4 hrs
$27.50
 
Casual rate per hour
$27.50
 
Full day
$154.00

Weekends

Seminar/ Group Room:

Half Day

Full Day

Evenings (from 5pm)

 $220.00

$440.00

$220.00

 
 
 
---
Bookings
For all bookings please contact:
Lyndall Rees
Ph: 0406 975 434
Email: nswipp4@bigpond.com
---